Please note: This product is customized. The customization time is 10-15 working days. We do not accept return or exchange for customized products.
Regular price
$147.98 USD
Regular price
Sale price
$147.98 USD
Unit price
per
Sale
Sold out
Log in to a professional account to unlock wholesale prices. Contact us to get the account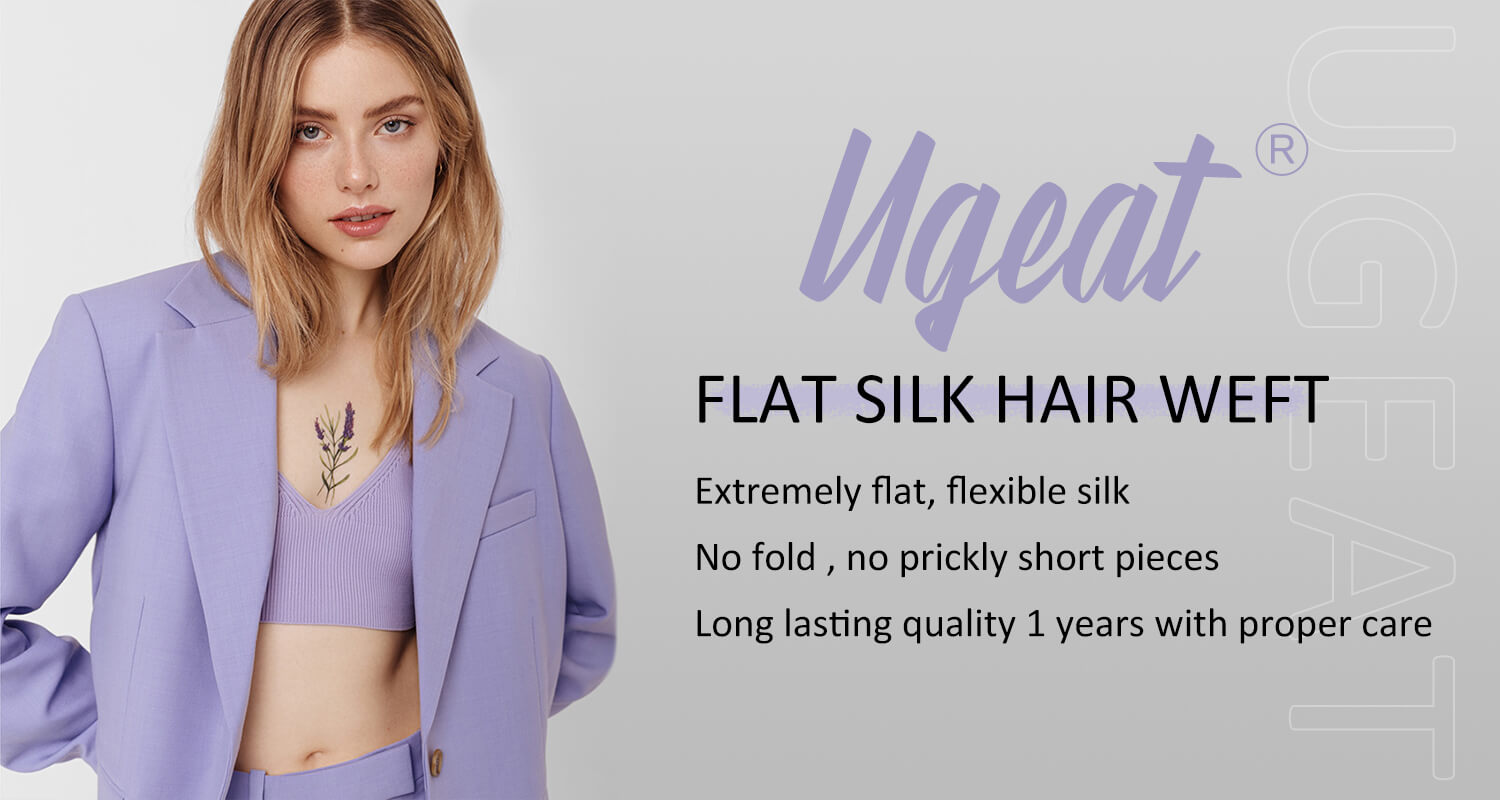 What are virgin flat silk weft extensions?
Flat silk weft extensions are a type of hair extension made from high-quality, 100% human hair that has been sewn onto a flat, thin weft. The weft is made of silk and is designed to lie flat against the scalp, creating a seamless and natural look. The silk material also helps to prevent tangling and shedding of the hair extensions. Enjoy low maintenance and quick styling, making them the perfect addition to your busy lifestyle.
Please Note: This product is a custom product. We don't have any in stock.


After the customer places the order, the factory starts to make it. Production time is 10-15 working days.

If you need to cancel or change your order, please do so within 48 hours of placing it. After 48 hours, we will not be able to cancel the order for you after the factory has already started production. After the product has been shipped, this products cannot be returned or exchanged. (If we have not shipped after the handing time, you can contact us to help you cancel your order.)
Detail about Virgin Flat Silk Weft
Hair Material: 100% Virgin Human Hair.
Material Grade:8A Brazilian Virgin Hair
Hair Length: 14" 16" 18" 20" 22" 24"
Hair Life: 8-12 months
Hair Weight: 100gram per bundle (150-200g can make a full head)
Why Choose Flat Silk Weft Hair Extensions ?
★ Comfort: Flat weft extensions are lightweight, flat against the scalp, and have no return hair, making them more comfortable than other types of extensions. They also create less tension on the scalp and are less likely to cause discomfort or headaches.
★ Versatility: Flat weft extensions are highly versatile and can be applied using a variety of methods, including sewing, glue, tape, or microbeads. This allows you to choose the method that works best for your hair type and lifestyle.
★ Natural look: Flat weft extensions are designed to lay flat against the scalp and blend seamlessly with your natural hair, creating a natural-looking finish. They also come in a variety of colors and textures, so you can easily find a match that complements your hair.
★ Low maintenance: Flat weft extensions require minimal maintenance compared to other types of extensions. They can be washed, blow-dried, and styled like natural hair, and they typically last for 8-12 months with proper care.
★ Cut freely: You can adjust the width of the hair cut to fit your head perfectly.

Share
View full details
How to Log in to Your Account?
1.Click in Login and Enter your email.
2. We will send you a 6-digit verification code to your email. Please check your email to find the email with the verification code
3. Enter the 6-digit verification code to log in to your professional account.
★★Please note that you need log in with your professional account email in order to unlock exclusive pricing.
How to tell if you have logged in to a professional account?
1. Product page
After logging in to your pro account, when you view the product page, there is only the "Add to cart" button
2 Shopping cart
After logging in, only the "Checkout" button will be displayed in the shopping cart, and other payment options such as Paypal, Goole play, etc. will not be displayed.
3. Payment method
Shop pay currently does not support installment payments for B2B orders. Therefore, after you log in to your professional account, the payment method of Shop Pay will not be displayed when paying on the checkout page.
If you have any questions when logging in to your account, please contact us and we will do our best to provide assistance.